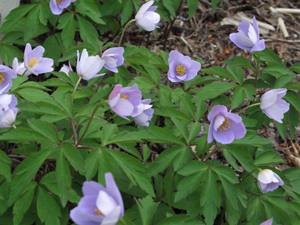 Is there yet another thing I need to collect? I bought my first varieties of the European woodland anemones years ago when installing a "purple" shade garden for my landlady. I was quite surprised to receive what looked like little twigs packaged in peat, and per instructions planted the rhizomes horizontally 1"-2" deep in bright shade in a soil with lots of incorporated organic matter (leaf mold is best). The first spring there was very little bloom (a trait of most all the varieties--this is a plant you have to be patient with) but the 6" high divided foliage was quite attractive, emerging with a sinister purplish cast and eventually turning a deep green. By the third year though, a floriferous spreading mat of delicate windflowers had been created, which never interfered with but only enhanced the look of the neighboring plants. I started wondering about the other clones available, and saw whites, pinks, blues, purples, yellows, and even green varieties out there for sale. Then I met a couple from Canada who said they had over 200 in their collection, and realized I was on the verge of going wacky over yet another plant. It's been years since I've purchased my last varieties, but have continued to propagate and grow on my two favorites.
Anemone nemerosa 'Allenii' - Many of the A. nemerosa cultivars have flowers with coloration that differs on the inside of the petals and the outside (termed the reverse). The showy inside of 'Allenii' is a bright lavender-blue that contrasts perfectly with the yellow stamens, while the buds and reverse side of the blooms are a violet-purple with overlays of gray. 1" wide flowers open on fair weather days to face the wind atop 6"plants during the first three weeks of May.
3/$12, 12/$40 *
Anemone nemerosa 'Mart's Blue' - Purchased originally from Latvian grower Janis Ruksans, whose friend discovered this form in Estonia. It has the truest blue color and longest lasting foliage (into August, where the others disappear in July) of any variety I have seen. Both the flower (3/4" wide) and plant (4" high) are on the dwarf side; the rhizomes are smaller too. Begins blooming a week to ten days after 'Allenii' starts.
3/$15 *
* For shipping calculation count 3 Anemone bulbs as one bulb
{loadnavigation}